3 reasons Bayern struggled against Atletico's resilient defence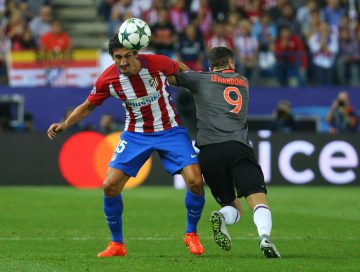 A change in leadership wasn't enough to help Bayern Munich avenge last season's loss to Atletico Madrid.
Similar to the defensive masterclass put on during the semi-finals last year against Pep Guardiola's team, Atletico's resilient back line helped lift the Spanish side to a well-deserved 1-0 victory at the Vicente Calderon against a Carlo Ancelotti-led Bayern squad and maintain Los Rojiblancos' place atop Group D.
Yannick Carrasco afforded his side some extra breathing space in the first half when he got on the end of Antoine Griezmann's through ball before sliding his effort past a sprawling Manuel Neuer.
The margin of victory could have been greater had it not been for Antoine Griezmann's miss from the penalty spot, but three points is all that mattered on this night.
Here's how Atletico managed to shut down Bayern's potent attack:
Neutralising Muller & Lewandowski
Bayern's lethal duo up front were silenced, as Robert Lewandowski and Thomas Muller struggled to find cracks in Atletico's organised defensive line.
Despite winning the battle for possession, Bayern's midfield often struggled to find the two in spaces where they could break through and offer a real threat on the Atletico goal.
Despite being relatively ineffective, they had moments when a goal seemed inevitable, with Muller heading an attempt wide shortly after the break and Lewandowski misplacing one of his own with just over 10 minutes remaining.
It's the third straight match the pair have failed to score.
Pushing play out to the wings, limiting space
Controlled aggression was in full effect, as Simeone's men utilized a seemingly perfect amount of aggression without losing their heads – collecting one yellow card compared to Bayern's three.
Happy to concede possession, Bayern often found itself with little room to work with up the middle, as Atletico forced the Germans out to the wings to play a brand of football which relied on the long ball.
A majority of chances for Bayern came down the left flank, with Franck Ribery and David Alaba often surging forward and overlapping one another. It was just what Atletico had planned for, as Juanfran – with the help of Gabi at times – extinguished the threat.
As Bayern attempted to adapt to the obstacles, Simeone continuously barked out orders, rearranging his formation in an attempt to tighten Atletico's defensive efforts whenever they strayed away from their assignments.
Oblak proves his worth
Under constant pressure, Jan Oblak proved once again why he's one of the top goalkeepers in the world.
With a majority of the play taking place around penalty area, whenever Atletico's defensive tactics broke down around the perimeter of its own goal, Oblak was there to clean up the mess and thwart Bayern's chances.
The Slovenian always had an answer each time he was called into duty, with his most impressive save coming in the fist half when he instinctively pushed away Muller's close-range volley shortly before Carrassco scored the winner.